UPCOMING EVENTS:
LDSES Fall Forum with Sharon Eubank
Thursday, October 10
Salt lake city, Utah
Sharon Eubank, First Counselor in the General Presidency of the Relief Society and Director of Latter-Day Saints Charities will be guest speaker at our annual fall forum. She has experience with the impacts of environmental degradation on communities worldwide.
Forum will be held at the White Memorial Chapel 150 E 300 N, Salt Lake City, Utah.
Since this will be held in Utah and most of us will be unable to attend, print copies of her talk will be made available.
Fall camping trip to shenandoah national park
Details on this camping trip are still being worked out, but we hope to rent a cabin which can be shared and offer option of tent camping too for 1 or 2 nights (depending on your preference) with hiking and other activities. Please RSVP to Merikay if you are interested. We'll try to keep costs low and logistics simple. The cabin we hope to rent is one that was built by a Latter-day Saint earth steward back in the 1930s.
rachel carson home tour and service event
Katy Cummings is working to setup an event at the historic home of Rachel Carson in Silver Spring, MD where Carson wrote the pivotal book Silent Spring.
fall planting at dc stake center
We'll continue our efforts to remember Washington DC Stake President James Baird by working on our native plant area of the DC Stake Center. Date TBD.
PAST EVENTS:
Day to Serve 2019
Saturday, September 21, 10 AM to noon
pleasant view native plant garden, 11810 Darnestown Road
Thank you to the Seneca Stake YSA volunteers who were a terrific help removing weeds and making the garden look great. We were joined by Betsey Hebron who shared first-hand knowledge of the history of Pleasant View. Thanks also to Jeff and Justin Smith without whom Merikay couldn't do these events. Pete Darmody of the Muddy Branch Alliance Board also stopped by to help.
Kayaking and Trash Pickup
Saturday, August 3, 10 am to noon
Riley's Lock, Seneca Creek and Potomac
Lots of wet fun as about 30 of us paddled along picking up trash. We had folks of all ages including quite a few from Virginia. Matt Markoff and Calleva provided the kayaks, canoes and life jackets. Among the trash items — a large white swan flotation device. Lots of plastic bottles, aluminum cans, etc. and all items were separated into trash and recycle bags to be picked up by the County Parks. Some of us stayed for an informal picnic. THANK YOU!
https://www.canaltrust.org/discoveryarea/rileys-lock-seneca/
Interfaith Bus Tour
Sunday, June 2, 3 pm to 5 pm
Interfaith Partners for the Chesapeake bus tour to share examples of conservation landscaping at several places of worship including our Pleasant View native plant garden. Tour is free and starts at Epworth United Methodist Church on 355 at 3 pm with the tour at PV following at about 4 pm. (Merikay met the group and briefly answered questions about our landscape project.)
Interfaith Walk
thursday, June 13, 2019, 6:30 pm
Seneca State Park
Interfaith Partners of the Chesapeake is hosting an interfaith walk and we're invited. Jeff and I attended this walk last year along the Muddy Branch Trail and enjoyed meeting people of other faiths while hearing scriptures from various faiths. I was fortunate enough to spot an albino robin — quite a visual treat. If you can't join this walk, please be sure to get outside with friends or family along one of our local trails to enjoy the wonder of spring.
Native Plant Event
Saturday, May 11, 2019, 9 am to 11 am
Washington DC Stake Center, 10000 Stoneybrook Drive, Kensington, MD
We completed the native redbud tree planting project which we started last spring in honor of our former Stake President and beloved friend, James Baird. We weeded, mulched, pulled invasive plants nearby, and installed native plants like ferns, wood poppies, buttonbush, serviceberries, etc. to help fill the space under our young trees. As these plants fill in it should help keep out the invasive plants. Anyone who attends church at the Stake Center is encouraged to help watch over our new little garden by weeding and watering throughout the season.
If you have native plants in your home garden you are willing to donate, please contact Merikay. We will continue to improve this site over time and hope more people become aware of the trail which James Baird helped create.
Photos from May 2019 at the James Baird planting event are a slideshow: click to see more. First photo is of the James Baird family.
Sunday, April 28, 11:15 AM
National Cathedral, 3101 Wisconsin Ave NW, Washington, DC
Join others of faith for an outdoor service to honor the Creator and Creation. I'll be there with a red blanket to sit on. Let me know you're coming and we can sit together. This will be a one hour worship service. merikays@verizon.net
https://cathedral.org/event/interfaith-celebration-of-creation/
Seed Swap
March 16, Saturday, 1:30 pm
Meldau-Cummings Residence, Silver Spring, md
We will swap seeds, share plans, and even get some seeds started that afternoon. If you have never tried growing from seeds before, this is a great time to give it a try. 4-inch planting containers and potting soil will be on-hand. So come celebrate the spring equinox by getting your hands in the dirt and enjoying some garden-nerd together time. Bring your seeds to share. Kids are welcome.
Free Native Trees
April 4 & 5
Each year Merikay leads a project to distribute native tree seedlings in the community. We have 350 native trees to give away -- up to 10 trees per household with a preference for residents living in the Muddy Branch or Seneca Creek watersheds. If you want to be informed when the trees are available, email merikays@verizon.net.
Since trees are bare root, they must be planted as soon as possible after being picked up. We generally receive 50 each of seven different tree species. These are the trees requested for this spring: 50 buttonbush, 50 baldcypress, 50 river birch, 50 loblolly pine, 50 gray dogwood, 50 serviceberry, 50 white oak.
Lands Green Waters Clean
february 27, 7 pm
Lakelands clubhouse, 960 Main Street, gaithersburg, md
Learn simple ways you can help reduce flooding and improve local water quality. Merikay Smith, long-time Master Gardener and Project Leader for the Pleasant View conservation landscape project, has created a presentation on practical ways you can make a difference. We'll also get to hear from a local Girl Scout troop about their cleanup of a park along the Muddy Branch.
This presentation is free and open to the public — but we especially welcome current or prospective members of Earth Stewardship East to attend. This is the last of three free talks provided as educational outreach for our Pleasant View project funded by the Chesapeake Bay Trust through the Montgomery County Water Protection Fund. Event co-sponsored by the Muddy Branch Alliance.
Photos above from Merikay's garden. Growing a variety of host plants brings butterflies and birds to gardens. What do you "grow" in your garden with your plants?
Butterfly and Bay Friendly Gardening Workshop
Saturday, november 3, 2 - 5 pm
16 Kent Gardens Circle, Gaithersburg (Kentlands Ward)
Muddy Branch Alliance is hosting a free workshop on gardening with native plants to create habitat and improve water quality. This is going to be a fun, practical workshop with a presentation by Lauren Hubbard, PhD biologist with garden design experience followed by one-on-one Q/A time where we will have knowledgeable people available to work with you on your specific gardening questions and design issues. The event is free but requires advanced registration so we can have a satellite view of your property to use in the personalized design Q/A time. We'll also have info available on county and city rebate programs to help offset the costs of conservation landscaping. Sign up ASAP as slots are limited.
Sign up online here: https://goo.gl/forms/7rLmAR52Ow7KwMDo2
This workshop is one initiative of the Lands Green Waters Clean program (supervised by Board member Merikay).
LDS Earth Stewardship Fall Forum
Thursday, october 25, 7 pm (9 pm our time)
Butterfly and Bay-Friendly Gardens Tour
Saturday, October 6, 9 am to noon
Our Pleasant View garden is being featured in a free tour of multiple Gaithersburg gardens sponsored by the Muddy Branch Alliance. Come visit any or all gardens at your own pace. Maps and info on conservation landscaping will be available at Constitution Gardens or online at www.muddybranchalliance.org. Gardens include the Constitution Garden Park, Woodland Hills HOA garden, Epworth Methodist Church, Pleasant View, and a private home. All gardens are relatively new landscaping and the tour should give you a chance to see ideas for plants that might work in your garden. Children welcome (Constitution Garden has lots of great play areas).
Day to Serve 2018
Saturday, September 22, 2018 10 am to noon
Pleasant view, 11810 darnestown road, gaithersburg, md
More than 80 members of the Potomac/Bethesda Wards of The Church of Jesus Christ of Latter-day Saints and others pulled weeds, planted trees and mulched our garden. Tilting headstones in the cemetery were straightened — a bonus. Lots of food and friendly conversation made for a fun morning. For details see "Pleasant View" from our home page.
To learn more about the region-wide Day to Serve events: www.daytoserve.org.
PawPaw Hike
Saturday September 15, 9 AM
Riverbend Park, VA (right past Great Falls)
8700 Potomac Hills St, Great Falls, VA 22066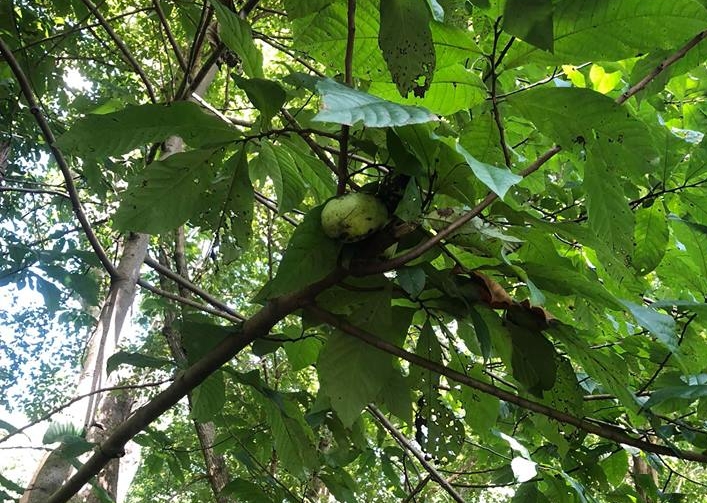 Katie led a group of hikers to "pick pawpaws and put 'em in a pocket". Despite hurricane forecast it was a sunny morning and lovely.
Planting at Pleasant View
Saturdays, July 21 and July 28, 9 am
We weeded the garden at Pleasant View on July 21, Saturday morning at 9 am. We'll repeat this coming Saturday, July 28. Pope Farm is donating 100 additional native plants to us which we will be installing. Thanks to our rain and relatively cool weather the plants should be able to survive being planted now. Special thanks to Dara Ballow-Giffen for getting the plants for us. Join us Saturday morning if you can -- this will be a small group event especially for students needing SSL hours and their parents but anyone is welcome.
150th Celebration at Pleasant View
Saturday, June 23, 2018 noon to 4 pm, rain or shine
Celebrate 150 years at Pleasant View with gospel music by the Royal Harmonizers and the Seneca Gospel Choir, talks on local history, BBQ, and more. Visit with Pearl Green who just turned 100 and hear from her and others about attending school during segregation. We'll have a table set up under a tent near the garden to share info on native plants and conservation landscaping. Families welcome.
Our gardens look great. Would look even better if the deer ate less! If you come on Saturday, plan to spend a few minutes pulling weeds and wandering in the garden. Hope you can come as this is going to be a memorable experience, not to be missed.
constitution garden park - exploring ways to use native plants
saturday, may 19, 10 - 11 am; LIGHT RAIN OR SHINE
Join us to explore a new park in Old Town Gaithersburg which features native plants as well as play features for children using natural materials. There are also several water features including a stone mill from a Seneca Creek mill and various storm water management design elements which creatively enhance the site while performing an important environmental function. Merikay Smith and Lauren Hubbard will share information about a new program, Lands Green Waters Clean. Get free native plant seeds and ask questions about ways to use native plants in your home garden. Children are especially welcome at this event. Co-sponsored by the Muddy Branch Alliance. (This event is being held instead of the planned volunteer/education date on May 19 at Pleasant View due to a septic installation on that site this week.)
Tree Planting in honor of james baird
Monday, May 14, 2018: DUE TO EXTREME WEATHER PLANS CHANGED to start at 5 pm
About 30 of us met at the Washington DC Stake Center, 10000 Stoneybrook Drive, Kensington, MD to plant a dozen redbud trees in remembrance of James Baird, our former DC Stake President who passed away unexpectedly this past February. We had to work fast to get the area cleared of invasive plants and our trees in the ground and mulched before an extreme storm hit. The rain started as we drove from the parking lot. Thank you to all who came - and to those who wanted to be there but couldn't because of the last minute time change.
James had a great love of the outdoors and of trees in particular. He also kept a collection of soil in carefully labeled bottles to remind him of significant places he had been in his life. It seems very appropriate to plant beautiful spring-blooming trees at the Stake Center where he spent much time. In fact, we learned the area where we planted is a trail which James helped create and used for the young men to have a woodland spot to gather around a fire pit and share ideas. Though he was our Stake President a relatively short period he had a tremendous impact on literally thousands in our community and he is missed.
The following excerpt from one of James' talks at a ward conference while he was bishop of the Rockville Ward gives insight into his love of Creation:
"I love this earth. I like to work in the dirt. I love to watch the sunset on warm beaches. I love the taste of a fresh toasted tomato sandwich with mayo, sea salt, and fresh-ground pepper. I love to stand in cold streams and try to outsmart the fish who have a brain the size of a pea. I love all of the physical sensations that my physical body experiences, like the way my stomach feels when you go over a rise too fast in a car. I love so much of what comes into my ears, my mouth, my nose, on my skin. I have spent much of my life pursuing these pleasures, and trying to provide them for others. I justify all this by reading in Genesis that God created all this for the use and benefit of man, to gladden his eye and lighten his heart. Certainly He wants us to appreciate His beautiful creations. While not a complete epicurean, I am well aware of how much I love all that God has placed for me on this earth, and have trouble imagining that it is any better up there. Maybe there are a few of you who feel this way too. Then why should we work to get off this planet that God placed us on and created for our use and happiness? How can we enjoy all this beauty and still try to follow our bishop's council to try to rise above it all?"
Indeed, that is our challenge: to enjoy our time on earth while making life choices that prepare us for our journey back to God.
Pleasant View - Earth Day Celebration 2018
Saturday, April 21, 2018 10 am to noon volunteer work day
Put this on your calendar now. We will celebrate Earth Day by seeing what has survived in our native plant garden over the winter. We'll plant a few new trees, shrubs, and perennials. We'll also begin labeling plants, weed as needed, and add new mulch. Bring food to share for a potluck picnic. Children will be welcome to come with parents -- students can earn SSL hours. RSVP to merikays@verizon.net. (I can definitely use some team leaders for this event -- please let me know if you are willing to help.)
Check out the photos from the beginning of our project including these by Caitlin Moulton from April 22, Earth Day of last year: https://caitlinmariephotography.pixieset.com/earthdayevent/ Last year we had 100 volunteers on Earth Day. Invite your friends and neighbors -- this time we are not starting with bare ground and hopefully it will not be raining! We will have an educational team led by a Master Gardener who will walk the garden and answer questions about the plants for those who want to learn more with a special emphasis on helping people learn about native plants which might thrive in their own home gardens.
We will have an additional volunteer date on May 19 (9 am to 11 am) and in June to prepare the garden for the 150th celebration at Pleasant View.
THURSDAY, MARCH 8, 7 PM
LANDS GREEN WATERS CLEAN - IZAAK WALTON LEAGUE, 707 CONSERVATION LANE, GAITHERSBURG
Join us to learn about a new program to help get more conservation landscaping in our watershed. The Lands Green Waters Clean program is being transferred to the Muddy Branch Alliance and nearby watersheds to extend its reach to more county residents. Merikay Smith has been asked to help lead this new initiative. She's inviting local members of Earth Stewardship East to join this March 8 meeting and will gather with ESE members following the 7 pm meeting to talk about our plans for 2018. If you can't be there, please email merikays@verizon.net with your ideas for what you want to do in 2018 with Earth Stewardship East. Another kayak/cleanup event on the Potomac? Continue our work at Pleasant View? Host an event in your home/nearby? Hiking/camping together? Share earth stewardship principles with our wards/Stakes? (and how?)
Let's see what we can accomplish together in 2018. If each of us helps just a little it will be amazing what we can accomplish.
M.L. KING Day of Service
January 15, 1 pm
Join us to pick up trash along the Muddy Branch --- the watershed we are protecting with our Pleasant View project. Explore the Muddy Branch trail and help us keep it clean. We'll start at 1 p.m. from the parking lot at 15021 Durfief Mill Road (near Rt. 28 and Muddy Branch).
OR do your own MLK service by inviting friends and family to help you pick up trash along the closest stream to your home. There are also many other MLK service events organized throughout our region. Please join in to help build community through service. For details on the Muddy Branch event, contact Merikay at merikays@verizon.net or visit the Muddy Branch Alliance website www.muddybranch.org
If you chose to serve somewhere other than Muddy Branch, please consider taking a photo and sharing it with us. Speaking of photos, Tompkins Hallman (left, age 90+) is sharing his experiences with Pleasant View volunteers in the historic colored school at one of our ESE planting events. Hearing him speak was a treasure -- WWII veteran, civil rights activist. Besides speaking to us he was out digging with us in the native plant garden.
Pleasant View Work Days 2017
Saturday, Nov. 18, 10 am spreading mulch
Saturday, Oct. 28, 10 am Tree Planting
Monday, Oct. 23, 10 - noon
Saturday, Oct. 21, 10 - 11 am
Thursday, Oct. 19 4 - 6 pm
Help us weed, plant for fall, and replenish the mulch. Bring your own shovel. Come alone or bring family/friends. RSVP to merikays@verizon.net. We especially need all volunteers who can possibly come to join us on Saturday, Nov. 18.
Photos from August 24.
Pleasant View 9/11 Day to Serve
SEPTEMBER 11, 10 AM TO NOON; 7 PM TO 8 PM
HELP WITH OUR NATIVE PLANT GARDEN IN THE MORNING OR EVENING OF 9/11. THIS IS A GREAT COMMUNITY BUILDING EVENT: HARD WORK THAT'S SATISFYING.
Poplar Island Tour, Chesapeake Bay
July 21, Friday, 9 am to noon
Departing from Tilghman Island - optional camping at tuckahoe state park, july 20
(See our blog post for a report and photos from this excursion.)
As shown in the satellite photo, by 1996 Poplar Island had nearly disappeared. Restoration efforts are underway to save the island -- recreating its 1,000 acres of habitat. Join us on a free tour of this island. We'll be reserving spots at a state campsite for those interested in camping. This should be an educational and fun outing. There's a small museum on Tilghman Island featuring creatures from the Bay -- one of many optional excursions.
We have a reservation for a group tent site at Tuckahoe State Park for Thursday, July 20 if you want to arrive early and enjoy more of this area. Adkins Arboretum is located within Tuckahoe State Park. There are hiking trails (walking actually - no elevation changes) and areas to canoe/kayak.
A few fun ideas if you have time to spend on the Eastern Shore. If you're interested on sailing on the Bay, one option is the sailing yacht Lady Patty which sails from Tilghman Island. Other charter fishing and sail boats are available at various sites on the Eastern shore.
On your drive to the Eastern Shore you might stop before crossing the Bay Bridge to visit the Sandy Point State Park. There's a wide beach here with playground equipment, boats to rent, and a great view of the Bay Bridge. It's fun to wade in the water (watch for stinging jellyfish) and watch the sailboats, barges and ocean vessels passing under the bridge. Or better yet rent a boat and get out on the Bay. With nearly 800 acres to explore there are also walking trails -- a great place to see birds.
Just off route 404, (31 miles from Sandy Point) you could stop at the Adkins Arboretum and wander their trails. Enjoy the native plant landscaping and be inspired. They have a small native plant nursery on site if you want to buy plants for your home garden. There's a visitor's center and minimal fee to enter. The Arboretum is part of Tuckahoe State Park, the camp site suggested as a place to stay on Thursday night, for those who are interested.
Near where we'll be taking the boat to Poplar Island is the Phillips Wharf Environmental Center, a small but very interesting collection of Bay creatures including an area where oysters are grown to repopulate the Bay with these water cleaning marvels. If you're interested in the history of Tilghman you could visit the Tilghman Watermen's Museum. http://tilghmanisland.com
If you have time there's also the Pickering Creek Audubon Society (http://pickeringcreek.audubon.org) where there are trails, canoes/kayaks to rent on weekdays, a small garden and birding areas.
St. Michael's Maritime Museum (and the town itself) is worth a visit. CBMM's campus includes a floating fleet of historic boats, 12 exhibition buildings, and changing special exhibitions, all set in a park-like waterfront setting along the Miles River and St. Michaels' harbor. Learn more at http://cbmm.org/
"Native Plants for Your Garden"
May 23, Tuesday, 7 pm
11800 Darnestown Road - Pleasant View Schoolhouse
Come learn about great native plants for the home garden. Merikay Smith, Master Gardener and Project Leader for the conservation landscaping at Pleasant View, will share photos and tips on including native plants in home gardens. Please invite neighbors and friends. This talk is part of the educational component of the Chesapeake Bay Trust grant that Earth Stewardship East received for Pleasant View. While you're at PV, stop by and see how the garden is beginning to grow one month in the ground. RSVP on ESE's FB event post or to EarthStewardshipEast@gmail.com.
Pleasant View Project
April 29, Saturday, 9 AM - 1 PM
11800 Darnestown Road, Gaithersburg, MD
Join us for our final spring volunteer work day at Pleasant View. We'll finish installing two huge beds of native plants -- each 30 feet by 70 feet. Over time our plantings will provide habitat and better storm water management too.
We'll also have time for volunteers to visit inside the historic colored school and talk with former students. Learn about how you can improve storm water management on your own property -- and tips on creating habitat with native plants.
If you work with Scouts or other youth groups, consider including them in this project. We have several possible Eagle Scout projects that could be done on this property.
Please email Merikay at merikays@verizon.net or signup on our Facebook page. We need to know who can help. Thanks!
Earth Stewardship East 2017 Launch
January 29, Sunday, 7 pm
10923 Breewood Rd, Silver Spring, MD
Please join us to discuss a talk by Elder Marcus Nash, LDS General Authority, on "Righteous Dominion and Compassion for the Earth." The talk can be found at: https://www.lds.org/topics/environmental-stewardship-and-conservation?lang=eng

We'll also talk about our Chesapeake Bay Trust grant to landscape the Pleasant View Historic Site and other upcoming plans.
Most of our activities will be family friendly but this particular event is for adults only. Thanks to Chandler and Amy Griggs for hosting.
Interfaith Environmental Conference
February 12, Sunday, 3 PM
St. Rose of Lima Catholic Church, 11701 Clopper Road, Gaithersburg
Earth Stewardship East is co-hosting "Interfaith Light," the fifth annual interfaith environmental conference for our local area. Merikay Smith will be the keynote speaker joined by representatives of the Catholic, Jewish, Muslim, and Hindu faiths to share inspiration on care for the earth and care for the poor. We will look at Pope Francis' encyclical and what impacts this statement has had on local, regional and worldwide actions. We plan to have information on current issues being addressed in Annapolis by the current session of our state legislature. In the past this has been a great event for inspiration, learning and networking -- all to make a positive impact locally. Please invite your friends and neighbors, particularly if they are a "green team" leader in their faith.
Climate Prayer Vigil
January 22, Sunday, 1 pm
Brookside Gardens, Japanese Tea Room
Join us for an interfaith vigil for prayer and meditation on care for Creation this Sunday, January 22, at 1 p.m. at the Brookside Garden Japanese tea room. People of all political backgrounds care about the earth -- let's join together in prayer.
We will be less than one hour. You're welcome to wander the gardens and nearby woodland trails after. Please invite your friends. Children are welcome too since we're outside and will not be long.
If you cannot be with us, consider setting aside time to pray and reflect on caring for the air, water, lands, and creatures of our earth.
Boat Tour of Anacostia River
October 29, 2016 at 10 am
Click above (Merikay's photos) and below (Ken Mortensen's photos) to see full slideshowS.
We will have two tours, one at 10 am and the other at 11 am, both leaving from the National Arboretum dock. Fall colors will be at their peak! Please share with friends who might like to join Earth Stewardship East. The more the better.
Bring your own picnic and join us at the tables near the Anacostia dock area at noon.
This Free event will be led by people who care about the Anacostia -- they'll share its history, wildlife, and environmental concerns. The boat carries 13 passengers. The Riverkeepers are willing to take one group at 10 am and a second group if we have that many interested. We have arranged for this tour to depart from the docks at the National Arboretum which is a wonderful place to visit. They ask that everyone on the river be ages 5 and up.
JUNE 25, 2016

POTOMAC RIVER / SENECA CREEK KAYAKING AND TRASH PICKUP
We'll meet at Riley's Lock for a free event -- all welcome. Pick up trash stream-side or from a kayak. Kayaks and life-jackets provided. Afterwards BYOP (bring your own picnic). There's a covered area with tables.
We can offer SSI (student service hours) to MCPS students.
May 21, 2016
First meeting of Earth Stewardship East
Potluck and Program
Twenty-five adults and four children attended the kick-off event for Earth Stewardship East at Merikay Smith's garden. We ate Chicago pizza and lots of delicious vegetable dishes. Despite rain we had a great time together -- kids left with tadpoles from the pond and it cleared enough for many to enjoy the garden. Kate Cummings shared our goals and elicited comments.
Merikay spoke on Pope Francis' encyclical Laudato Si, "Care for the Earth: Care for the Poor." Our first meeting topic of Pope Francis' encyclical parallels the spring social for the LDS Earth Stewardship group held in Salt Lake City.
Check our website's "Inspiration" section for posts on the Pope's encyclical.